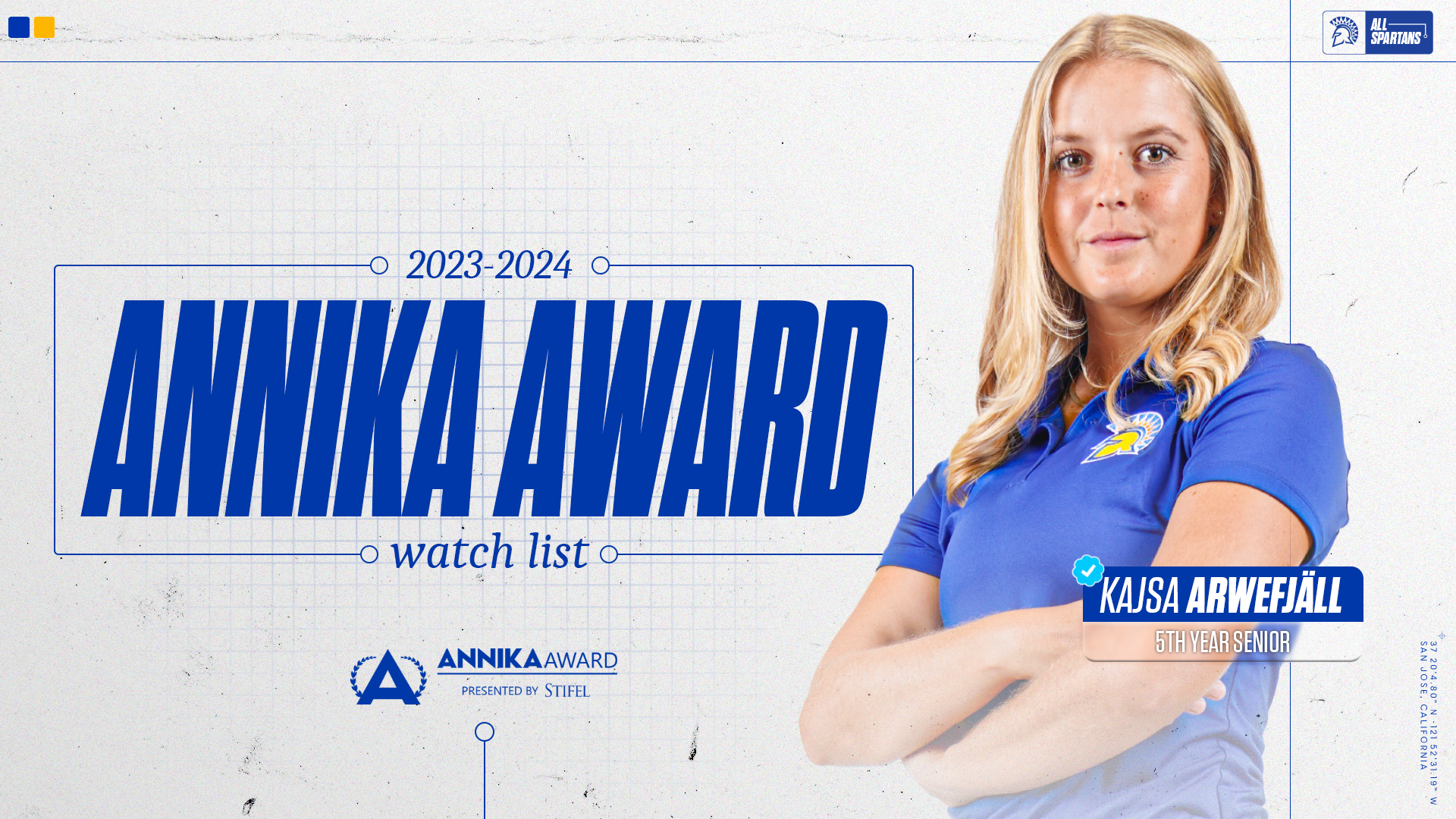 COLUMBUS, Ga.—San José State fifth-year women's golfer Kajsa Arwefjäll has been named to the 2023-24 Preseason ANNIKA Award Watch List.
The reigning Mountain West Player of the Year, Arwefjäll is currently ranked 33rd in the World Amateur Golf Rankings (WAGR). She is the second San José State women's golfer named to an ANNIKA Watch List after Natasha Andrea Oon was a finalist for the 2022 award.
Kajsa Arwefjäll, Fifth Year, Hollviken, Sweden
2022-23 Mountain West Player of the Year
2022-23 WGCA Second Team All-America
Four-time WGCA All-American Scholar, Academic All-MW and MW Scholar Athlete
Best stroke average in the conference and second-best in school history at 71.00 last season
Finished tied for 18th at the 2023NCAA Championships
18 career top-10 finishes
Only career title at the 2022 USF Intercollegiate
2023-2024 Preseason ANNIKA Award Watch List (listed alphabetically):
Kajsa Arwefjäll, San Jose State
Amari Avery, Southern Cal
Zoe Campos, UCLA
Hannah Darling, South Carolina
Megha Ganne, Stanford
Cayetana Fernandez Garcia-Poggio, Texas A&M
Charlotte Heath, Florida State
Rachel Heck, Stanford
Madison Hinson-Tolchard, Oklahoma State
Rachel Kuehn, Wake Forest
Mackenzie Lee, SMU
Andrea Lignell, Ole Miss
Ingrid Lindblad, LSU
Julia Lopez Ramirez, Mississippi State
Caitlyn Macnab, Ole Miss
Caley McGinty, Ohio State
Tunrada Piddon, UCF
Ashley Menne, Arizona State
Anna Morgan, Furman
Kiara Romero, Oregon
Amanda Sambach, Virginia
Megan Schofill, Auburn
Latanna Stone, LSU
Lottie Woad, Florida State
Jeneath Wong, Pepperdine
About the ANNIKA Award presented by Stifel:
Created in 2014, the ANNIKA Award presented by Stifel is annually given to the top female Division 1 collegiate golfer; the winner voted on by players, coaches and members of the college golf media. Named for Annika Sorenstam, the award was created in partnership with the Haskins Foundation to acknowledge the top female golfer and to match the Haskins Award presented by Stifel, which acknowledges the top male Division I collegiate golfer. Rose Zhang (Stanford) became the 9th ANNIKA Award winner in 2023, and the third consecutive winner from Stanford.

Stifel, one of the nation's leading wealth management and investment banking firms, serves as the presenting sponsor of both the ANNIKA and Haskins Awards, recognizing annually the most outstanding NCAA Division I female and male college golfers. Stifel also serves as a presenting sponsor for the NCAA Division I Women's and Men's Golf Championships on GOLF Channel.
About Stifel
Stifel Financial Corp. (NYSE: SF) is a financial services holding company headquartered in St. Louis, Missouri, that conducts its banking, securities, and financial services business through several wholly owned subsidiaries. Stifel's broker-dealer clients are served in the United States through Stifel, Nicolaus & Company, Incorporated, including its Eaton Partners business division; Keefe, Bruyette & Woods, Inc.; Miller Buckfire & Co., LLC; and Stifel Independent Advisors, LLC; and in the United Kingdom and Europe through Stifel Nicolaus Europe Limited. The Company's broker-dealer affiliates provide securities brokerage, investment banking, trading, investment advisory, and related financial services to individual investors, professional money managers, businesses, and municipalities. Stifel Bank and Stifel Bank & Trust offer a full range of consumer and commercial lending solutions. Stifel Trust Company, N.A. and Stifel Trust Company Delaware, N.A. offer trust and related services. To learn more about Stifel, please visit the Company's website at www.stifel.com. For global disclosures, please visit https://www.stifel.com/investor-relations/press-releases.

About Fred Haskins and the Haskins Foundation
From the seaside town of Liverpool to a quaint Donald Ross course in Georgia, Fred Haskins built a reputation for mentoring young golfers. Haskins was head professional at the Country Club of Columbus for 34 years, recommended for the position by the legendary Bobby Jones. His proteges learned the game in Saturday morning classes that cost a nickel. They went on to win more than 150 collegiate and amateur tournaments. Since its formation in 1971, the Haskins Foundation has been devoted to amateur golf and the presentation of the Haskins Award. This coveted trophy honors the year's outstanding college golfer and the memory of Fred Haskins, a club pro that spent his life nurturing and mentoring amateur golfers. The foundation, based in Columbus, Ga., oversees the voting for the Haskins and ANNIKA Awards conducted among college golfers, coaches and golf media. For more information on the Haskins Foundation, visit www.HaskinsFoundation.org.
#AllSpartans