Spartan Football Parking & Tailgating Map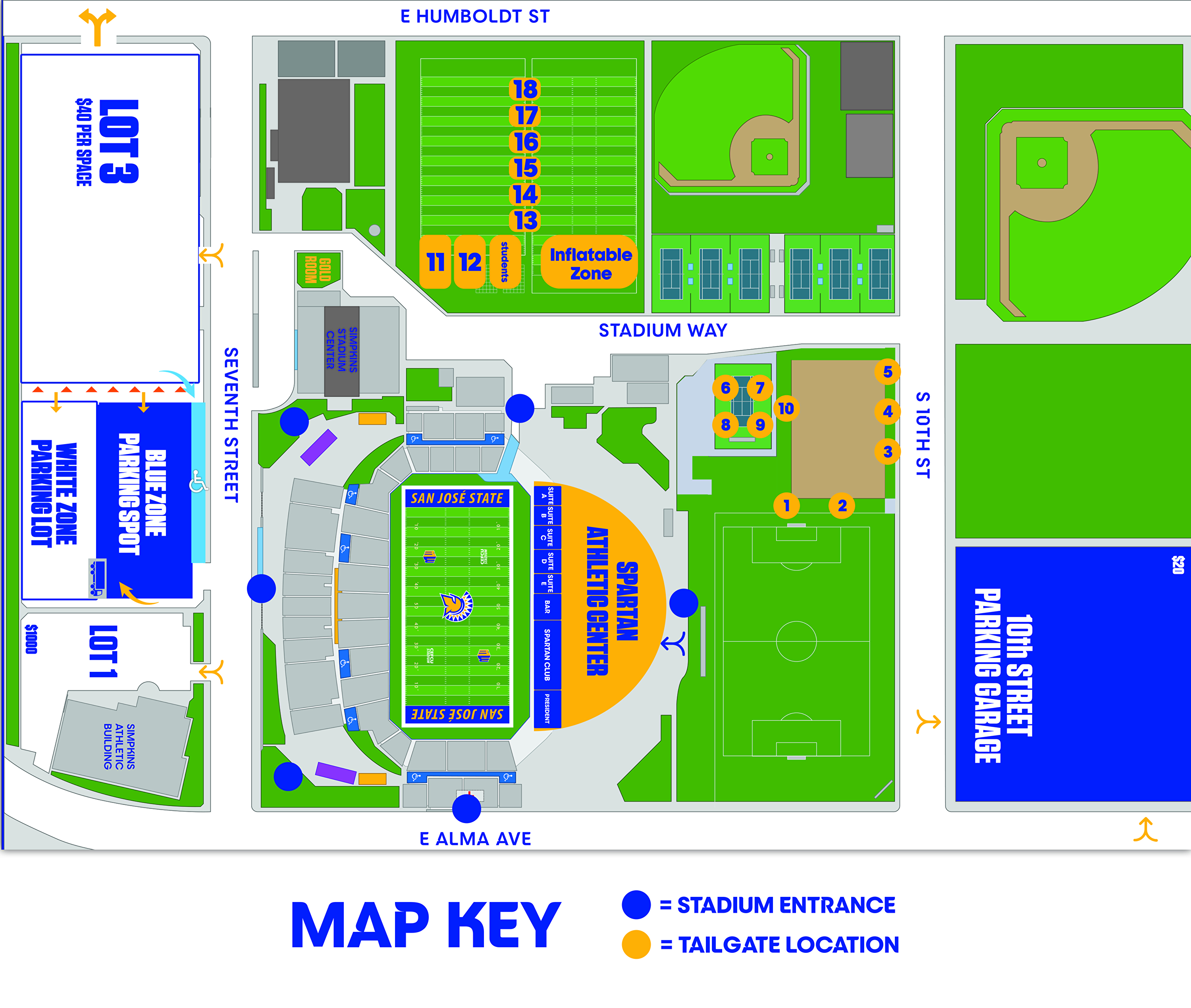 TAILGATING AT CEFCU
Tailgating is allowed in any paid parking lot at CEFCU Stadium. Parties of 50 or more are encouraged to tailgate in Spartan Village. Spartan Village is the ultimate Game Day Experience at unbeatable prices, just steps from CEFCU Stadium, packages start at just $200 and include 2 parking passes. For a full list of available see our Parking/Tailgating Map.
For additional information on tailgating and availability, please contact Jeremy Curran at 408-924-1246 or e-mail at jeremy.curran@sjsu.edu.
ONE SPARTAN NATION PARKING
GOLD PARKING
$125/month donation to the Spartan Athletics Scholarship Fund Gold Level parking is in Lot 1 attached to the Alan B. Simpkins Athletics Administration Building
Additional tailgate food and beverages provided by Spartan Athletics
Assigned parking space
Access to indoor restrooms
BLUE PARKING
$62.50/month donation to the Spartan Athletics Scholarship Fund
Includes a space to park your vehicle and an additional vertically adjoined space for tailgating activities
Unassigned parking
WHITE PARKING
$29.17/month donation to the Spartan Athletics Scholarship Fund
Includes a single space to park your vehicle
Unassigned parking
San José State University is committed to creating a safe, friendly and clean, game-day environment for all fans, students, alumni and members of the San Jose community. The University disapproves of alcohol abuse, intoxication, smoking marijuana and any resulting unacceptable conduct.
Fans and their guests are permitted to gather and tailgate only in approved parking lots around the football stadium. Fans must adhere to the Football Game Day Alcohol Policy. The following items are not permitted in any parking lot around Spartan Stadium:

Glass bottles

Mass-consumption devices

Kegs

Drinking Games

Charcoal BBQs

Any fan who does not comply with these policies may be escorted off the premises. All mass consumption devices and glass bottles will be confiscated by the proper authorities if seen in use.

All patrons in any parking lot around CEFCU Stadium MUST adhere to the noise ordinance policy. Loud or offensive music will not be tolerated. DJs without proper certification will be asked to leave the premises.

Tailgates and tailgating activities shall be refined to an area in front of or behind a parked vehicle. Tailgates and tailgating activity cannot occur in drive lanes or any fire lanes.

Tailgates and tailgating activities that compromise existing parking spots will be asked to move to a cleared area (in front or behind a car).

All grills must be extinguished (propane only) prior to vacating the lots. Failure to do so may result in citation.

Fans cannot consume alcoholic beverages outside of designated Tailgate Area.

All tailgating, music and drinking must stop at kickoff. At kickoff, all fans must make their way into the stadium or to the bus back to campus. Anyone drinking in the parking lots after kickoff will be subject to citation.