SAN JOSE, Calif.—Samantha Macasu and Madison Gustitus, Level 10 gymnasts from Legacy Elite Gymnastics in Aurora, Ill., have signed National Letter-of-Intent to compete for the San José State women's gymnastics team beginning with the 2025 season, as announced by Spartan head coach Joanne Bowers.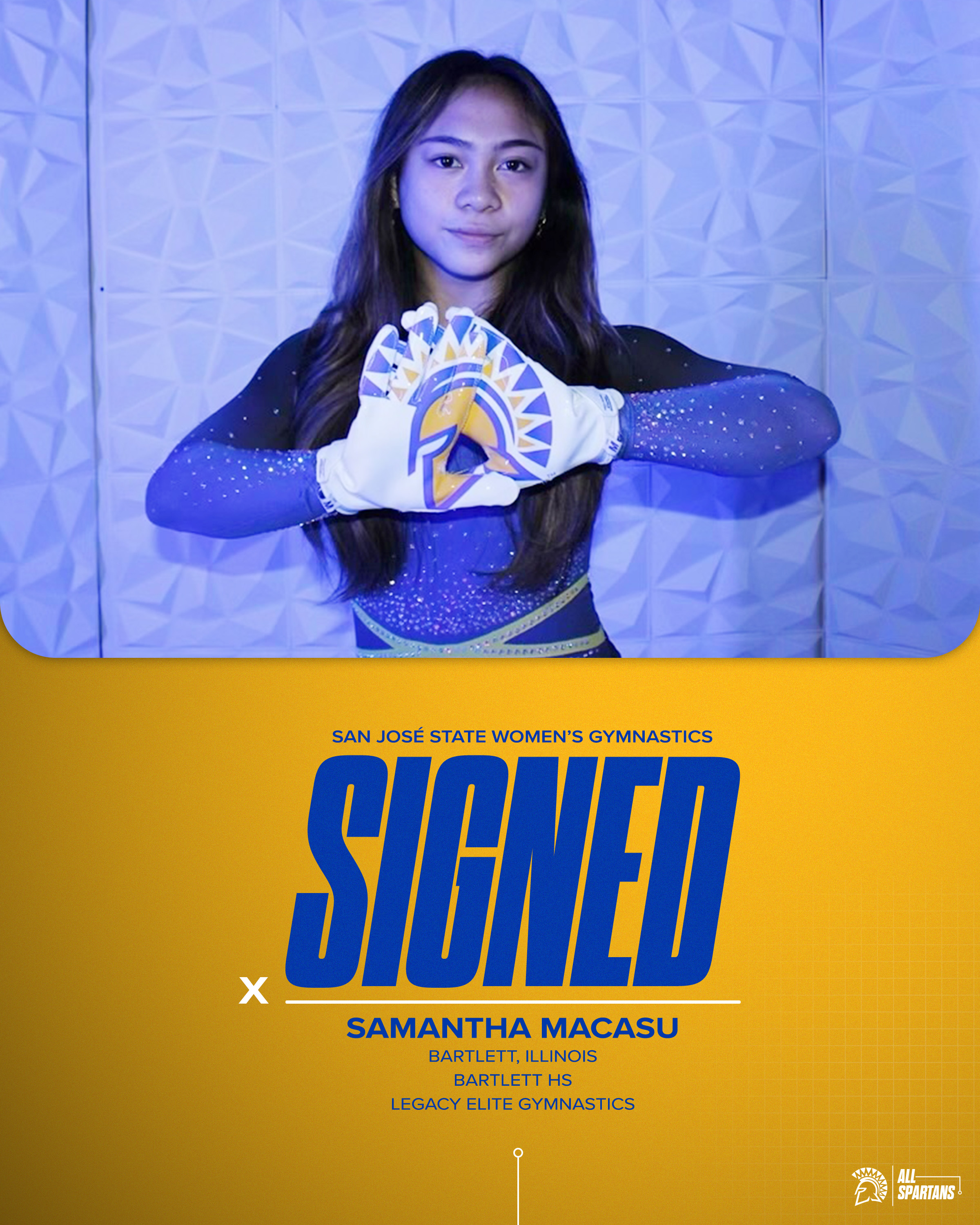 Samantha Macasu, Bartlett, Ill., Bartlett HS, Legacy Elite Gymnastics
Daughter of Jessica and Rommel Macasu from Bartlett, Ill.

Competed at the 2023 Asian Games representing the Philippines

Four-time competitor at the Level 10 National Development Program championships

2023 National Level 10 Bars Champion

Tied for fifth on beam at nationals

2023 Level 10 Region 5 Champion on bars

2023 Region 5 All-Star Team

2023 Illinois Level 10 Champion on bars, beam and floor

2020 Nastia Liukin Cup competitor

Honor roll all four years of high school
Why Samantha chose San José State
"The amazing program, team and community are what drew me to San José State. The team, coaches, campus and environment made me feel welcomed as soon as I walked onto campus."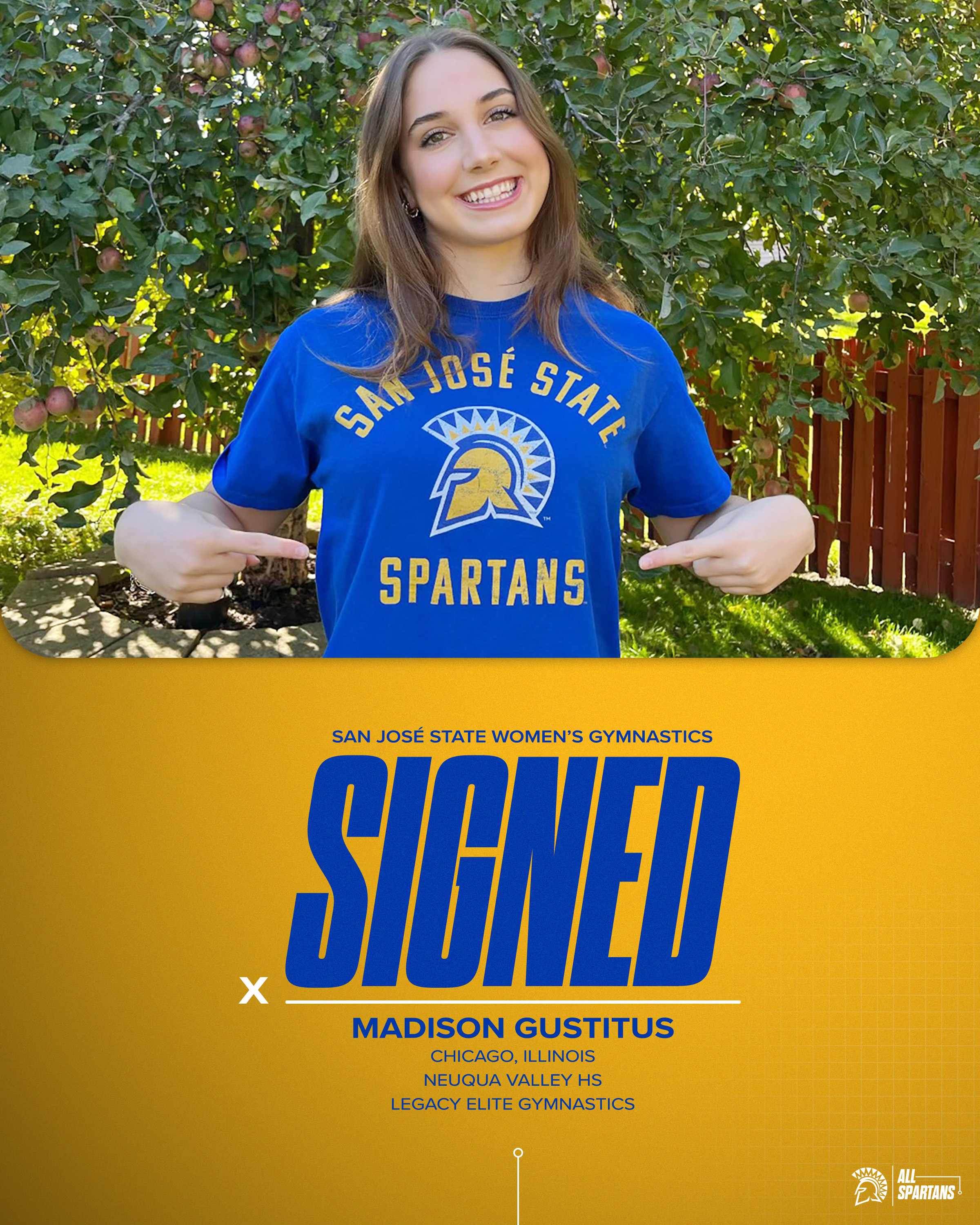 Madison Gustitus, Chicago, Ill., Neuqua Valley HS, Legacy Elite Gymnastics
Daughter of Therese Arnaudo and Delph Gustitus

Three-time Level 10 Nationals qualifier

2023 Level 10 National Runner-Up on beam and place fifth in the all-around

2023 Region 5 Yahtzee Award winner for Fun & Fancy Floor

2023 Region 5 Level 10 Championship – fourth on bars, fifth on floor and sixth in the all-around

Her 9.750 score on beam in 2023 placed her on America's Top-100 list

2023 Region 5 All-Star Team

2022 Illinois Level 10 Champion on beam

2024-25 Illinois State Scholar
Why Madison chose San José State
"Stepping onto campus, I knew this is where I was meant to be. The coaches and team were so inviting and truly made me feel like I was at home."
Coach Bowers on Samantha & Madison
"Both Sam and Maddy will add instant upgrades and quality depth to our team with the all-around success they have had and what they are bringing to the table. They are high-level gymnasts, great performers, and strong students. Legacy Elite Gymnastics is run by former Olympians and UCLA gymnast, Anna Li, and her parents. They know how to get their gymnasts ready for college, and we are thrilled to have them join our program.
"When we are recruiting, our number one goal is to find the right FIT, meaning are they great teammates, care about others, do the right things, and improve in their sport throughout their college career. We want people that LOVE to compete and want to help us continue to build our program into something special. Sam and Maddy will help us do this and are both great FITS for us!"
#AllSpartans